SCRAM GPS Electronic Ankle Monitoring
The SCRAM GPS ankle bracelet monitor provides state of the art GPS location monitoring consistent with SCRAM System's overall exceptionally high standards along with their impressive customer service and comprehensive technical support.
A Step Above the Rest
SCRAM Systems has consistently embraced cutting-edge innovations and improvements to provide superior monitoring technology. Their GPS ankle monitoring services are no different. The SCRAM GPS ankle monitor gives supervisors incredibly accurate location information, an industry-leading strap design, the best battery life of any electronic ankle monitoring device of its kind, and so much more. Its user-friendly software has made it the top choice for officers who wish to streamline their duties without sacrificing efficiency.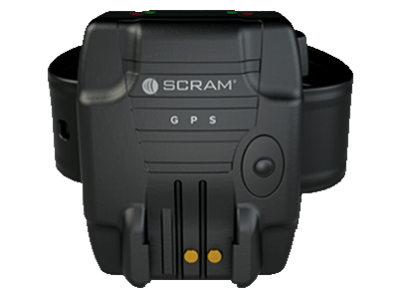 It's also fully compatible with the full SCRAM Systems suite of solutions, including alcohol and location monitoring. This system allows officers to consolidate their tasks on a single platform. By using a 3G cellular network, the system provides very reliable coverage. By combining the cutting-edge SCRAM GPS Analytics software with Google Street View, tracking is simplified. Supervisors have the information they need to record and understand their clients' movements effectively.
The SCRAM electronic ankle monitoring system also has numerous, revolutionary features that reduce the risk of tampering while also substantially reducing the number of false reports.
SCRAM GPS Analytics
One of the challenges of using GPS to track clients is the fact that the average GPS software may produce up to 1,500 GPS location points daily. This information is great for accuracy, but it's not particularly efficient. Officers don't have the time or the resources to sift through this imposing mountain of data while trying to identify issues with offenders that need to be addressed quickly.
The SCRAM Analytics software, however, does most of the work for you. It's designed to help supervisors streamline their tasks so that they can spend less time sifting through useless data and more time focusing on those offenders and tasks that require their attention. Our system sorts through thousands of GPS points—up to a month's worth. It translates this information into an easy-to-understand report that provides officers with the tools they need to quickly assess the movements of their supervisees and address any problematic patterns.
Cut Free Strap Design
One of the significant annoyances officers face when dealing with ankle-monitored clients is false alarms. SCRAM has eliminated doubts with their cut-free strap design and unambiguous OPEN alerts. When an officer gets an OPEN alert, it means that the strap is disconnected. There's no need for wait times, grace periods, or trying to determine the difference between an "event" and an "alert." SCRAM has effectively removed many of the intermittent strap disruptions that cause uncertainty with other systems.
World's Most Powerful Mapping Tools
When a client's movements do become problematic, you must be able to respond quickly. SCRAM uses Google Maps and integrated Google Info windows with their SCRAP GPS monitoring software. This system allows officers to identify a client's exact location in moments, while the real-time transmission rate makes it easy to apprehend clients.